<< Previous Month - Archive Index - Next Month >>
Updates Archive - August, 2003
Monday, August 25th, 2003
9:57 PM EST
Added a new Cannibal!-Orgazmo connection: Dirty So-and-so. Thanks to Justin Timberloins for this one.
If you're a fan of Matt & Trey (you certainly should be - why else would you be here?), and you like reading/writing fanfic, then check out The Trey Parker and Matt Stone Movie Fanfic Website. And for anyone who has a website that is Matt or Trey-related, send me an e-mail, and I'll get you linked up - all I ask is that you return the favor.
Thursday, August 21st, 2003
3:16 PM EST
CRAPstore is back!! Cannibal! products include:
Check out CRAPmag. There's a new interview with Weird Al, Lloyd Kaufman, and other junk. You can also win a Weird Al Poodle Hat CD, Poodle Hat poster, and maybe even...THE COMPLEAT AL!!
Thursday, August 14th, 2003
2:39 AM EST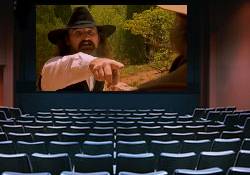 Cannibal! on the Big Screen!!

Great Incredible news for those of you living in the Minneapolis area! To quote roashowman from the CRAPforum, "Cannibal: The Musical! will be playing on the Big Screen this month as part of the big 30th Anniversary Troma Celebration in Minneapolis. The St. Anthony Main Theater will play host to Troma founder Lloyd Kaufman (live and in-person at the theater Aug. 22-24), and more than a dozen of the most amazing Troma films of all-time! All in 35mm, all on the Big Screen!"

To see all the details, go Here.
<< Previous Month - Archive Index - Next Month >>