<< Previous Month - Archive Index - Next Month >>
Updates Archive - December, 2003
Tuesday, December 23rd, 2003
4:41 PM EST

No matter what holiday you choose to celebrate, have a good one!! If you don't celebrate any holiday, then...go build a snowman! If you don't have snow, then...it sucks to be you. =) Happy Holidays!!
Tuesday, December 16th, 2003
1:32 AM EST
This site will now be hosting the famous "Making of..." stories by Mr. Jason McHugh, formerly seen on the CRAPsites. Along with that honor, we bring you the newest addition: Chapter 23!
Please notice that there is now a link on the menu for these stories - Making Of - where all 23 chapters can be found.
Thursday, December 11th, 2003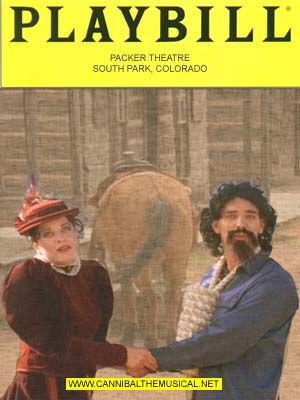 Maybe someday...
1:37 AM EST
Cannibal on stage? It's not a new idea. In fact, it has been sweeping the nation. An overstatement? Possibly. But this news may help it be the next Lion King.
Trey and Dave Goodman are currently working on an official play adaption of Cannibal! The Musical, which will be sold at the CRAPstore. The package will include stage script, sheet music, and all that good stuff. More news as it comes.
Saturday, December 6th, 2003
2:14 PM EST
Mattt (from all things CRAP) wanted me to share this with yous guys - more specifically, those of you who bought the Shatterproof single.
These here are liner notes for the CD, that will be added to future CDs sold at the CRAPstore. Right-click, Save target as... (1.20 Mb)
Also, you may notice this on the liner notes: "Coming soon to www.CRAPtv.com: The Cannibal The Musical Comic Book." You're excited?!! Feel these n...nevermind. =)
Anyways, thanks to Mattt, here's a nice preview of what the cover may look like.
For now, these will go in the Pictures page under Exclusive.
Thursday, December 4th, 2003
11:29 PM EST
THREE brand spankin' new movie connections!!
Numere uno: Singin' in the Rain, submitted by Aj
Numéro deux: The General, submitted by Isis
Paginere tre: Monty Python's The Meaning of Life, submitted by Marla
Enjoy!